Time to dive into Night 2!
Pool Party
The pool party seemed like a lot of fun and less pressure than the cocktail hour. JoJo was able to get some 1:1 time with each of the guys. There wasn't much talking, just a lot of lip-locking. I loved the guys' synchronized swimming skills. Too bad Evan had to ruin it with a bloody nose. At least Chad made his one and only funny joke by saying "I promise it wasn't me, I wasn't anywhere near him". As quickly as Chad can be funny, he goes back to angry Chad just as quick. Derek told JoJo that security is in the house because of Chad's behavior. When JoJo confronted Chad about it, he denied it.
Chad then got in Derek's face about it, and Derek didn't deny saying anything to JoJo. He did try to have a CTJ (come to Jesus) with Chad, but you can't reason with an angry person.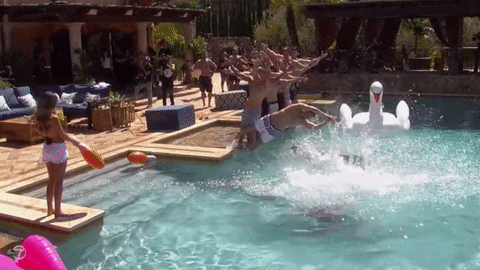 Rose Ceremony
The following guys received a rose:
Chase – 1:1 Date Rose
James Taylor – 1:1 Date Rose
Evan – Group Date Rose
Chad
Jordan
Alex
Derek
Daniel
James F.
Grant
Luke
Robbie
Vinny
Wells
1:1 Date
Luke received the only 1:1 date of the week. YAY! Their date was is in the middle of no where with a hot tub (kind of reminded me of Ben and Lauren B's date last season). Since the hot tub was too hot, Luke had to slowly lower her in.
Once Luke started to open up to JoJo about his past, I had to hold back tears. He has seen how bad life can be, but he is fully embracing the now. My favorite thing he said was that he lives for the things that make the hairs stand up on the back of his neck.  That is how we should all be living our life.
At the end of the date, Luke got a rose.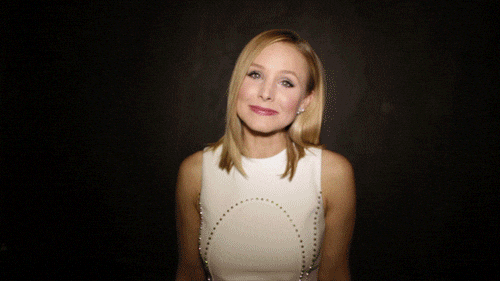 Group Date
The group date was ok . . . .except for James Taylor's head wrap. Poor guy took an elbow to the face and needed a few stitches.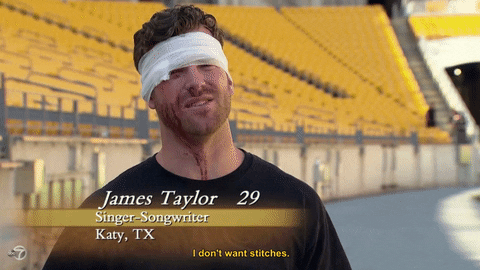 The date was all about football so we all know that Jordan excelled. The winning team was able to continue on the date with JoJo.
Jordan received the group date rose. No big surprise there.
2:1 Date
The BEST part of the whole episode was waiting  for the 2:1 date with Chad and Alex. Before the date, in true Chad form he got into an argument with the guys and asked if anyone has a problem with him to raise their hand. I'm pretty sure everyone watching The Bachelorette to raised their hand.
On their date they go for a hike in the woods to a spot near the river. Luckily we didn't have to watch the tension for very long because Jojo and Alex walked off to talk. Jojo noticed the obvious tension and asked Alex what was going on. He told her that Chad has anger issues and threatened a few of them in the house. At first JoJo was pissed about Chad's behavior then it seemed like she was trying to rationalize it. I'm sorry JoJo, his behavior is not ok and not what you should want for yourself.
JoJo then gets 1:1 time with Chad and he deflects everything. At one point he said "that's not 100% false". . .ummm how false is it then? Chad returns to the river and tells Alex that he's disappointed with him.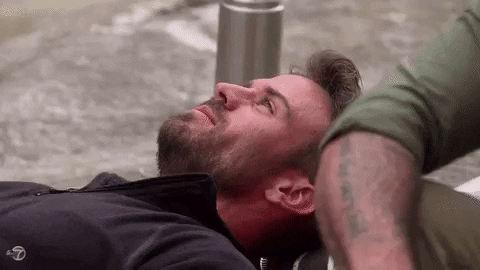 JoJo gives Alex the rose and sends Chad home, except Chad doesn't wait for the producers to send him home he takes a walk in the woods back to the house where the guys are staying. Y'all it was straight out of a horror movie.
Now we have to wait TWO WEEKS for The Bachelorette to return!
Thanks for stopping by! Come back tomorrow for the Friday Five.
Xo, Heather