This week there were two episodes of the Bachelorette which could have been a little bit too much to handle, but the reality TV gods graced us with a whole lot of crazy! I'll recap night two tomorrow, so make sure you come back.
1:1 Date
Chase and JoJo's date was at a hot yoga studio were they performed "angergasms" (I promise I'm not making that up). It was a very awkward date to watch. I used to attend hot yoga classes and the last thing I want is someone touching me, let alone go on a date. As awkward as I thought "angergasms" were to watch, it got worse when JoJo mounted Chase in front of the yoga instructor to perform a yim-yam. What the what! After the sensual yoga class, they went to dinner, Chase got a rose and then in true Bachelorette form they were treated to a private concert.
Group Date
Jordan, Chad, Nick, Grant, Wells, James F., Christian, Ali, Daniel, Evan and Alex received the group date card. Chad of course was PISSED! He pulled a Jubilee and said he didn't want to go on a group date, he wanted 1:1 time with JoJo. Chad seriously needs to slow his roll and be happy that he is going on a date.
They get to the date and they find out that they have to share a sexual escapade from their past. I would die, just die. I thought the "angergasm" date was embarrassing but this was mortifying. Most of the guys were good sports and had some interesting stories to tell but it was hard to watch. Evan decided it was time for him to stand on his soapbox and practically call Chad out on using steroids. Evan, I don't think it's a good idea to call out the LARGEST guy in the house who could have roid rage. I honestly don't know what he was thinking. As Evan was going back to his seat, Chad was getting up because his turn was up next. This caused a scuffle and Chad ripped Evan's shirt and we did not hear the end of it for the next few hours. For the love, will someone please get him a new tee shirt???
Chad gets up on stage to declare that he does not want to participate in this and only cares about a future with JoJo. He pulls her up on stage to kiss her. . .and she denied it. Good job, JoJo!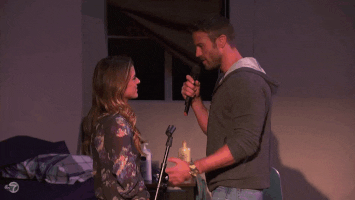 After Chad's attempt to kiss Jojo, he does what an mature, rational thinking adult does and punches a door. The guys notice that his hand is bleeding and Chad said "the door got in the way of my hand". Umm..false. 
JoJo had some 1:1 time with each of the men. When Evan finally had time with JoJo he decided it was a brilliant idea to lay down an ultimatum. It was either him or Chad. JoJo ended up giving Evan a rose. Chad responded with "Are you really vibbing with this guy?" JoJo didn't miss a beat and put Chad in his place. I love that she doesn't let the guys get away with anything.
1:1 Date
The last 1:1 date card went to James Taylor. JoJo and James Taylor traveled in style to their swing dancing lesson. I can't get enough of James Taylor; he is adorably dorky, entergenic and you know he would be the man to pick up flowers for his girl every time he goes to the grocery store. Plus he can sing you songs! Who wouldn't love that!?!?
After their swing dancing, JoJo had some time to find out more about James Taylor. I think he is top 3 material, but I think he might be too sweet for her. James Taylor received the last rose of the evening.
JoJo decided that she wanted to forgo the cocktail party before the  rose ceremony to spend the day with the guys in the pool. Night two's recap will be up tomorrow. There was too much to share.
Thanks for stopping by!
Xo, Heather